Hi Everybody!
I was thinking about the upcoming New Year and I decided that I have ONE wish ... I wish that MY baby brothers will PLAY BALL with ME in 2008!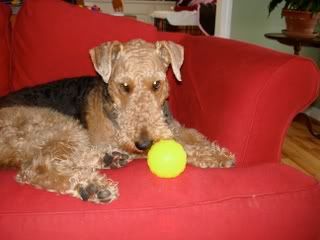 You SEE, MY brothers gaved ME this super duper coolest ever YELLOW BALL for Christmas and I am so hoping that 2008 will be the year when they roll it to ME or toss it to ME so that we can play together ...
I am also hoping that everydoggie out there has a safe and happy NEW YEAR with their families ...
Til Next Time Everyone ...
Your Friend,
Putter ...:)