Hi Everyone!
Today was super duper exciting here!!!!!! Maggie and Mitch's Mom and Dad camed to SEE ME!!!!! Mom says that they really camed to meet MY cutest ever baby brothers, but I know that they came to SEE ME!!!!! We had such funnest!!!!! Mom says that I made a bit of a spectacle of MYSELF because I was overcome by excitement, but really who wouldn't be excited by a visit from Maggie and Mitch's specialist ever Mom and Dad?
Here I am talking to Maggie and Mitch's Mom ...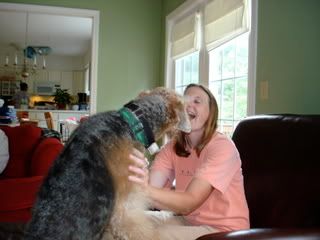 Here I am on MY favoritest RED COUCH with Maggie and Mitch's Dad ...
Here I am playing with a super specialist pressie that Maggie and Mitch sent for ME ... It is so neatest ever ... It is red and makes a sqeaky noise and it looks like a squirrl ...
Thank you so much Maggie and Mitch and thank you for sharing your Mom and Dad with ME for the afternoon! I had a greatest time and by the way so did MY Mom and MY cutest ever little brothers even if I did steal the show from them just a little bit ...:) A super NANNY has to get some attention ya know!!!!!!!
Til Next Time Everyone ...
Your Friend,
Putter ...:)