Hi Everyone!
So as most of you know by now, I have two brand newest baby brothers and I am their SUPERNANNY! Well, as SUPERNANNY, I am, if you can even believe it, not supposed to touch MY brothers stuff ... I am only supposed to gently sniff and watch over them carefully ... When MY brothers are in the room, this is what I do ... When they are not in the room, I must admit, I find myself somewhat tempted to check things out a bit more closely ... After bath time tonight, this is how Mom found ME ... I just could not help MYSELF :)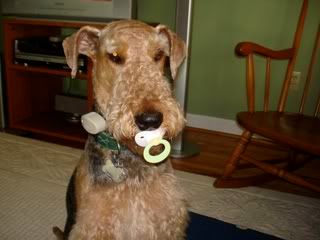 I have been watching MY baby brothers with their binkis and I wanted to have one of MY own ...:)
Til Next Time Everyone ...
Your Friend,
Putter ...:)