Hi everyone!
Thank you so muchest ever for the continued goodest ever wishes following the CORN COB INCIDENT! I am feeling much betterest thank you! I gotted my stitches OUT and I am especially happiest about this! NO MORE BLOW UP COLLAR and I get to go back to the POOL! Yet, I have to admit that once I got used to MY BLOW UP COLLAR, it wasn't really so bad! It was like wearing a pillow! Now that I am back up and around, I am very busy sampling all of the new foods that MY baby brothers are learning to EAT! OMG! It is like a never ending pawty here ... Pancakes for breakie, cheese sandwiches for lunchie and cheerios or din din! It is the bestest everest! OMG! My goodest and bestest friend Maggie even asked me if she could borrow MY brothers for a week so that she could get in on some of this goodest ever food! Maggie changed her mind when she heard that one of MY brothers attempted to PULL MY TAIL this morning! Mom promised that this would never ever happen again, but Maggie still thinks she will hold off on the visit for now! Hee Hee! Well, this is all the news I have to report for now ...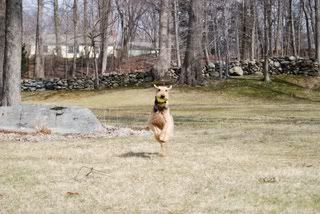 Til Next Time Everyone!
Your Friend,
Putter ...:)
ps ... I have not been invited to anymore barbecues!