Hi Everyone!
Today is a very exciting day for ME! I am off to Florida to celebrate Suki's FIRST Birthday at Disney!!!!!!! OMG, it is going to be so much funnest ever!!!!!! I can't even wait! I am going to meet Maggie and Mitch at their place and we will wait together for AIRERUBY to come get us at 2 PM!!!!!!! Flying AIRERUBY is always such a treat! Maggie, Mitch and I are gonna sit together and we are gonna have Margaritta's and chips and salsa on the way down to the BIG pawty!!!!! I sure do love a goodest ever Margaritta every now and again! Oh, I almost forgot the most important part -- I am bringing a RED soccer ball for SUKI -- it is her birthday pressie ... I hope she likes it:)!
OFF TO MEET MAGGIE AND MITCH!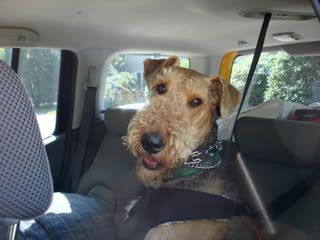 SEE everyone at the pawty! HAPPIEST EVER FIRST BIRTHDAY SUKI!!!!!!!!!!!
Til Next Time Everyone!
Your Friend,
Putter ...:)