Hi Everyone!
I was tummy tagged the other day by my friend Maggie! Now I am embarrassed! Last night, I was sleeping soundly after a long, fun day of soccer, walkies and gardening ... I was comfortable on MY favoritest red couch and then Mom has to start taking pictures and THEN she has to post them on MY blog ... Seriously, what happened to that thing called privacy????
Dreaming:
Snoring:
Still Dreaming:
This is the most comfortablest: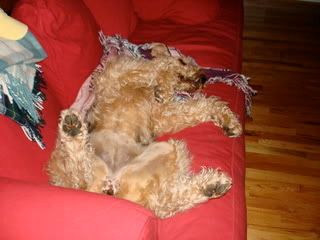 Now I will tag my friends ...
Liberty the Airegirl!
Billy Boo!
Faya!
IT SEEMS WE MADE A MISTAKE WITH OUR TAGGING AS LIBERTY AND FAYA HAVE ALREADY BEEN TAGGED -- SO INSTEAD WE WILL TAG MARVIN AND BOGART:)!!!!!
Can't wait to see your tummy pics!
Til Next Time!
Your Friend,
Putter ...:)