Hi Everyone!
My birthday finally came and I had a great day! I went to daycare and played with my friends and I swam and I had a bath:) When I came home I had two pressies in my mailbox -- one from my friend Billy Boo and one from my friend Oscar:) I was so excited! I wanted to get right to the opening part ...
This is from Oscar ...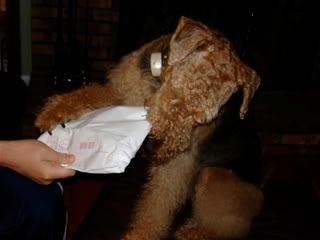 This is from Billy Boo ...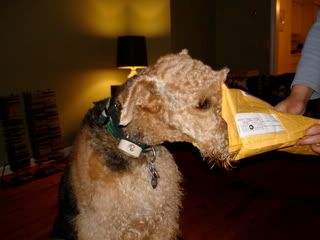 Notice how my nose is all the way inside the envelope -- Billy sent me something that smells really good!!!!
Here I am opening my pressie from Oscar!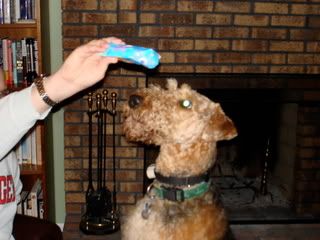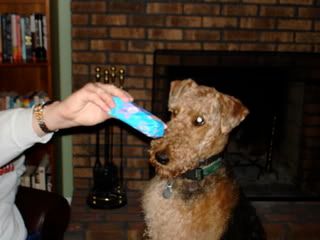 Oscar gave me a beautiful card and a pretty new collar and matching leash ... Thank you Oscar, thank you! How did you know that I was planning to start my own collar collection just like my friend Maggie?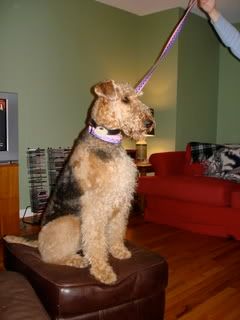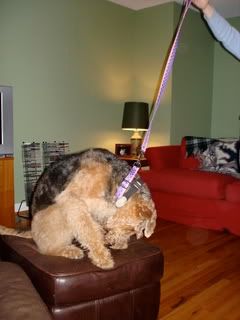 Billy sent me his favorite treats and a beautiful card -- notice the treats on the left and the card in the middle ... The card from Oscar is on the right ...:)
And this is my pressie from Mom and Dad -- I call him yellow rabbitt and I LOVE him! (mom: unfortunate news to report on yellow rabbitt this morning just hours after he arrived ... he has been eaten ... by none other than the birthday girl)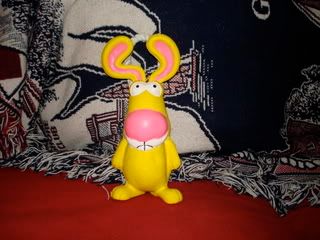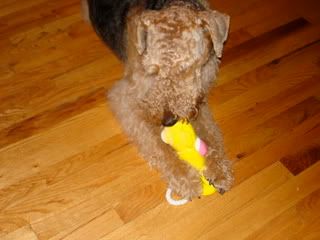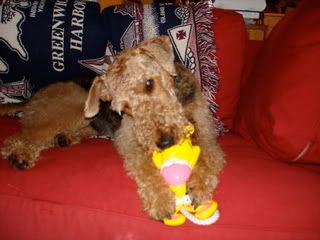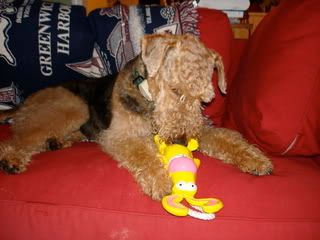 Here I am in the birthday hat I got at daycare ... I am not smiling cause I really don't like wearing hats -- I am just humoring Mom and Dad here ...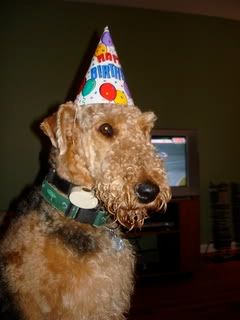 Ahhh exhausted after a long and fun birthday:) Thank you again Oscar and Billy Boo for the wonderful pressies and thank you to everyone for your very kind birthday messages on my blog -- This sure beats my birthday last year when I spent my birthday at the doggie motel!
Til Next Time Everyone ...
Your Friend,
Putter ...:)