Hi Everyone!
I am so excited! When I went out with Mom to get the mail today, there was a birthday package in the mailbox and it had MY name on it! It was from my friend Sunshade and it came all the way from Canada!
Here I am working hard to open my parcel! I smell something in there and I want it!
Finally I got the envelope open and got to see what was inside:) Sunshade is the best! She sent me a my very own swimming towel! I have never had a swimming towel before, this is really great!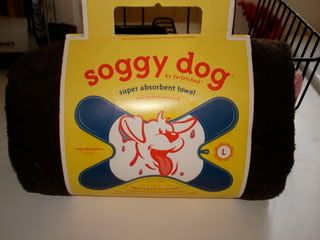 Here I am checking out my new towel and trying to make it smell like ME:)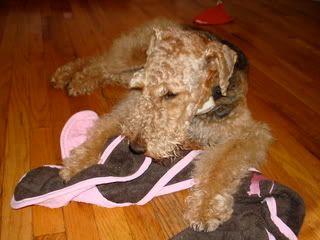 Here I am wearing my new towel -- see how it is a perfect shape to fit ME!
I can't wait for my next swim!
Sunshade also sent me a very special tag for my collar with my picture on it on one side and a birthday message on the other side -- I have already put it on my collar and will cherish it always. Thank you Sunshade! There were also some tasty treats in the envelope -- sea kelp and nut snacks which I will try tonight!
Thank you Sunshade, you are a special friend:)
Til Next Time Everyone ...
Your Friend,
Putter ...:)