Hi Everyone!
I got tagged by MY friends, Bogart and Hercules to play the middle name game:) The rules of the game are as follows ...
1. Post the rules before you give the facts. (Listen up Pups, these are the Rules!!)
2. List one fact that is somehow relevant to you and your life for each letter of your middle name. If you don't have a middle name, use the middle name you would have liked to have had.
3. When you are tagged you need to write your post using your middle name and facts about it.
4. At the end of your post choose one dog to tag for each letter of your middle name. Be sure to let each puppy know she/he has been tagged. (It's ok if you don't do this, just tag who you want to tag!).
My somewhat unofficial middle name is BEAR ... I say unofficial as it is not used often since I have so many nicknames that my middle name gets lost in the shuffle so to speak ... Anyway, back to the game ...
B -- BOOTIFUL
E -- ENERGIZER BUNNY
A -- ACTIVE
R -- REAL (in other words, what you see is what you get -- I don't play games)
So now, in keeping with the rules of the game, I tag Buster the Wonder Dog; Eddie from Eddie's Dog House; Asta and Reina!
Talk to everyone soonest!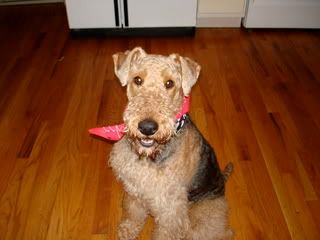 Your Friend,
Putter ...:)