Hi Everyone!
Mom and I have been busy deciding on my five most favoritest books ... Here is what we have come up with:)
1. Curious Geroge -- Curious George and ME are a lot alike ... Bright and curious ... Only difference is that he is a monkey and I am an Airedale:)
2. Clifford the Big Red Dog -- Clifford is real smart and has written so many books! This is why my next three favoritest books are also Clifford books:)
3. Clifford Goes to School ... I like this one because I go to school too:)
4. Clifford's Puppy Days ... This one brings back happiest memories of when I was little ...:)
5. Clifford's Family ... I like this one because I love MY family ...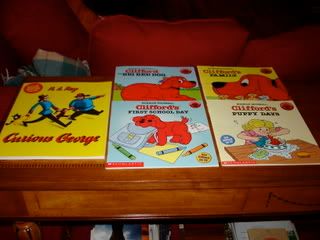 Here I am doing some reading ...:) And if anyone asks, I did NOT eat a corner off of MY Curious George book:)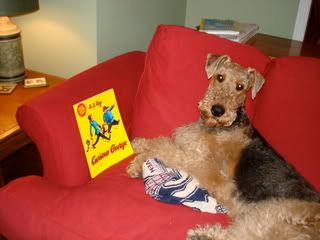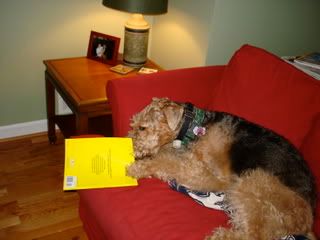 Beyond MY five most favoritest books, I also wanted to share the rockin dog blogger award from my friends Maggie and Mitch ... Thank you so much! You are special friends ...:)
I now pass the award along too ... Sephie and Buster the wonder Dog, Stanley the Goober Aireboy, Allegra the Airegirl, Billy Boo and Sparky the Puggle ...:)
Til Next Time Everyone ...
Your Friend,
Putter ...:)