Hi Everyone!
Yesterday I sent Mom down to Maggie's house to bring her a birthday pressie from ME! It was sad, but true that I could not go cause Mom was working and it would have been too complicated. I was swimming at daycare so no worries -- I was happiest! Anyway, anyway, Maggie and Mitch sent Mom home with a piece of Maggie's birthday cake for ME! I am serious when I say this was the BEST cake I have ever had! Thank you, thank you Maggie for sharing your specialest ever birthday cake with ME!
Here is the special box with a message from Maggie to ME ...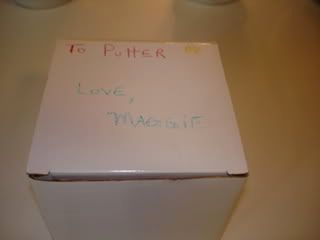 Here it is -- the specialest cake ever ...
Time to EAT!
Thank you Maggie! Thank you! Mitch and your Mom can bake ME a cake anytime:)!!!!
Til Next Time Everyone!
Your Friend,
Putter ...:)