Hi Everyone!
I got my haircut this week! Mom calls it grooming, what's the difference, really? It was time! I had my wooly bear look going and was getting kind of hot. Since I am not a big fan of being brushed in between my grooming sessions, it was getting kind of hard to keep me looking my best. This is not really a problem for me, but it is for my Mom:)
Here is a before picture right before we left for the appointment ...
Now here are the after pictures ...
Here I am smiling because I just got a cookie ...
Ahhh Time for a rest in my most favoritest chair ... Content and looking good ...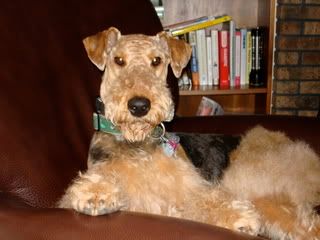 More Soon ...
Your Friend,
Putter ...:)