Hi Every Doggie!
I am sorry I have been away for a while, things have been very busy around here ... One of the things I have been working on is becoming a therapy dog! Yes, that is right, I am in training to become a therapy doggie! I am very excited about my soon to be new career ... I mean, I will still be the primary NANNY here at my house, but now that my boys are a little older, they don't need quite as much supervision from ME ... So anyway, I just completed my therapy dog class and I passed NINE parts out of TEN on the final test ... While I do have to re-take the test because of the one part where I need a bit more work (that would be sitting politely for petting) ... I sorta wanted to hug the examiner and apparently I was not supposed to do that! But Mom says that NINE out of TEN is really, really GOOD especially for a spirited, high energy girl like ME! Mom is very proud of ME and was particularly happy when the examiner told her that I am a very sweet girl and that I will make a GREAT THERAPY DOGGIE! So this is my big news for now! Off to continue my work ... I hope every doggie is doing wellest ever!
ME and MY brother William are READY for TRAINING -- Do you SEE how he wants to be just like ME by wearing a leash too!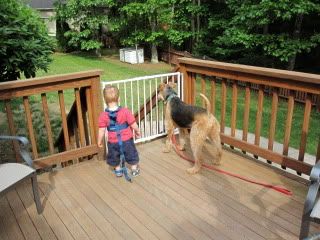 Til Next Time Every Doggie ...
Love,
Putter ...:)