Hi All!
It has been a while since I have been able to post ... This is because it has been all work and no play around here ... MY boys are keeping ME on MY paws and there has been no down time for ME to speak of ... Yet, I did get to make a pot of BEEF Stew -- my favoritest ever with Mom last week ... Maggie's super duper bestest ever Mom shared the recipee with us and Mom and I got to work ...
Here I am inspecting the STEW Pot before we started just to make surest ever it would not leak or anything like that ...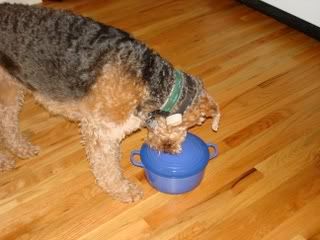 AND here I am tasting MY STEW! Mom goofed and the other stew pictures did not turn out wellest ever so we just have the before and after shots to share ...:)
DELICIOUSEST EVER!!!!!!!!!!!!!!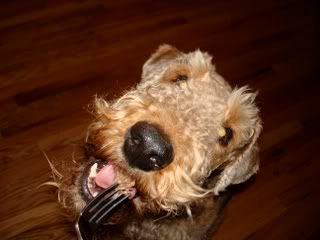 I also wanted to thank my friend BOGIE for passing on the YOU MAKE MY DAY AWARD to ME ... Thanks so muchest ever Bogie! You make MY DAY TOO! You are a sweetest ever friend!

This is all for now ... I will be back super duperest soonest though as I am behind on my posting ... I am trying very hard at the moment to come up with MY list of wierd things about ME (Maggie and Mitch tagged me on this one) and I am also working on my list of annoyances (Taffy tagged me on this one) ...
Til Next Time Everyone ...
Your Friend,
Putter ...:)