Hi EveryDoggie!
I have been away for a bit, but I am back now! A lot has been happening at MY housie in the past two months! First, MY BOYS turned ONE! As a result, I have been spending more and more time TEACHING them all of the most important things I can think of! This is ME having a discussion with MY BROTHER BRADY ... I must add that Brady is quite a little character ... He actually stuck his little finger UP MY BIG BLACK NOSE last night! Naughty little boy! Good thing I am such a GOOD natured airegirl! Hee Hee!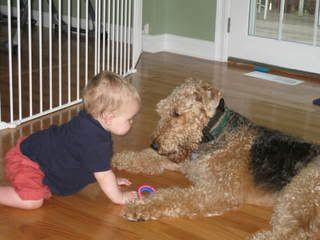 Beyond this important work, I have been doing A LOT OF THIS ...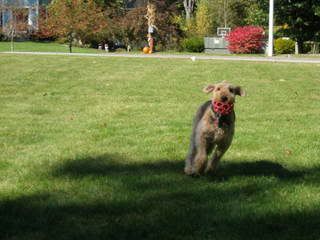 And A LOT OF THIS ...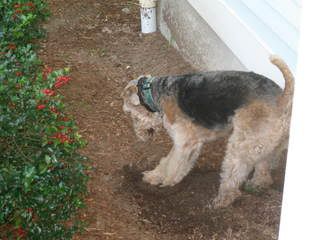 The landscaping here at MY HOUSE in the woods never seems to be done ... There is always work for ME to do! OMG!
Well, this is all for now ... I am looking forward to seeing every DOGGIE at the big HALLOWEEN PAWTY in London! I will be coming with MY GOODEST and BESTEST FRIENDS Maggie and Mitch! I am so excited ... Maggie and her Mom made the coolest, goodest, bestest costume for ME! OMG!
See EveryDoggie soonest!
Love,
Putter ...:)