Hi Everyone!
Valentine's Day is coming soonest and that means that our DWB trippie to MOUNT HAIRY LODGE in the POCONOS is coming soonest too! ME and MY HERC are going together and we are really excited! Mom tolded ME this AM that I should start thinking about packing! First I needed to decide what I will wear ...
Here I am thinking about these tasty RED MITTENS ...
After rummaging through ALL MY Mittens and Scarves for a really long time, MY BABY BOYS decided to loan ME this super cool RED HAT and I decided it would go wellest with MY blue and yellow scarf ... What do you think?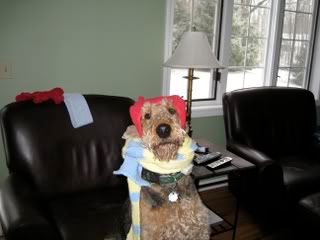 For a moment I thought that MY ride to MEET MY HERC on AIRERUBY was coming today so I decided to wait by the door ... Notice MY RED BAG ... I love MY RED BAG! :)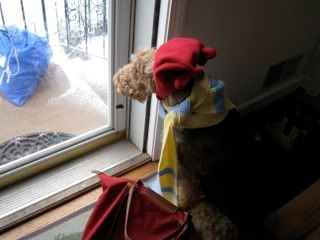 I can't even wait til next week ... This trippie is gonna be the bestest fun everest!
Til Next Time Everyone ...
Your Friend,
Putter ...:)