Hi EveryDoggie!
I got the most exciting package in the mail the other day from my goodest and bestest friend Maggie and her brother Mitch! The box had two things in it! One was the most beautifulest ever brand NEW RED collar which I have since discovered is MAGIC! Yes, that is right, it is MAGIC! It allows ME to travel to the NorthPOLE or where ever I might want to GO just by twirling it on MY NECK! When I do this, my heart beats FAST and I am OFF! It is the neatest thing everest! I have already been to the NORTHPOLE several times to check on Santa's progress AND I have been down to visit MY GOODEST and BESTEST friend, Maggie many times too! OMG! We have had so much funnest ever! We have shopped and we have been to Starbucks for coffee and we have eaten Onies which are amazingest ever just like Maggie says! OMG! It has been great and all because of MY special new collar! Thank you Maggie and Mitch! Thank you!
Here is a photo of ME wearing my pretty new collar ... It is not the best photo as Mom says I was not cooperating since I was so excited by the Christmas treee! Oh well! It happens!
The second thing in MY box was the most beautifulest ever orny for MY TREE! OMG! I just love it so! It is an airegirl like ME and Maggie's Mom made it herself! It hangs on our tree and will forever and ever as we will cherish it forever and ever! Thank you again Maggie and Mitch and your very special Mom!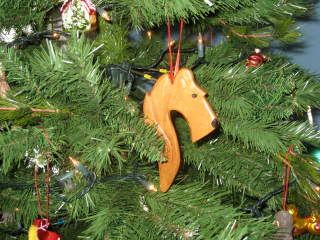 Til Next Time EveryDoggie ...
Your Friend,
Putter ...:)