Hi Everyone!
Something exciting happened to ME this weekend! I made the swimmies team at MY SWIM SCHOOL! OMG! I was so excited! It all happened when I swimmed non-stop for 18 entire minutes against the current! When I did that -- and I did not even have to try that hard -- I LOVE TO SWIM -- I got a BLUE RIBBON saying that I had made the SWIMMIES Team!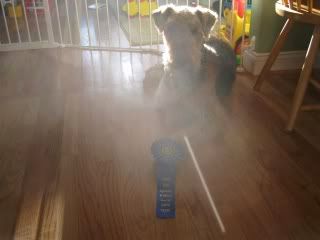 I know that I will swimmies forever and ever ... I just LOVE IT! I first started swimmies when I was a puppy because I hurt myself by playing to hard! When Mom saw how much it helped me in MY REHAB and how strong and healthy it made ME, we decided that I should KEEP swimmies for FUN and for HEALTH!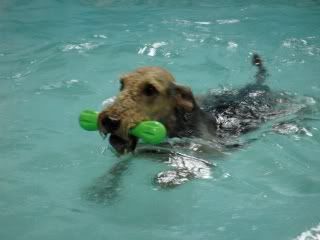 MY Mom swims too and so does Maggie's coolest ever Dad ya know! In fact, Maggie's Dad is a GREAT swimmer! I am hoping to take a swim with him someday! Can ya ask him for ME Maggie, please?!
Til Next Time,
Your Friend,
Putter ...